Home Gen. Manager's Message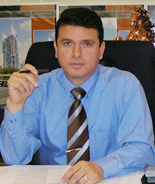 Welcome to Al Shafar Development (ASD), on behalf of my team, I would like to invite you to explore our wide range of development opportunities.
ASD, arm of Al Shafar Group of Companies, was established in 2006 with strong investment and management capabilities to develop and create world class Real Estate development.
ASD is characterized by highly qualified and experienced staff very dedicated to achieve the highest standards of development through innovation and state of the art technology. We are considered to be among one of the leading companies in the United Arab Emirates in the field of investment and development.
ASD ensures that all clients' requirements are met in order to achieve their satisfaction through a professional, high quality and timely service.
Let me take this opportunity to thank you all our dear customers, our management, our staff and to all the people behind who contributed and supported in our previous years of success. I hope that you will continue and will never stop supporting us in our next level of conquest.
Indeed, our Victory is also yours!
NASSER ABDUL SALAM AHMED ALI
General Manager